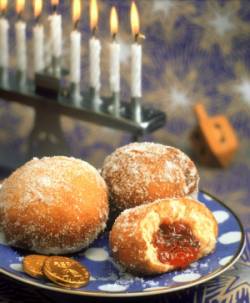 These days you can make almost anything gluten free, even jelly donuts.
Donuts, called sufganiyot in hebrew, are a popular chanukah treat because they're fried in oil.
Want to try to make your own from scratch? Go ahead, here are some recipes to make gluten free donuts. Best eaten hot (while they're still around)!
Gluten Free Donut Recipes:
Gluten Free Sufganiyot (contain dairy)

-
Imamother.com
Regular Gluten Free Donuts

-
Gluenfreebay.blogspot.com
Low-Carb Donuts (with whey powder)
-About.com
Gluten Free Jelly Donuts

-
Glutenfreebay.blogspot.com
Vegan Donuts

(no gluten, dairy, eggs, soy, or corn)

-pure2raw.com
Gluten Free Jelly Donuts/Ebelskivers
- Glutenfreeonashoestring.com
Comprehensive tips for

Allergy Friendly Donuts

-
Glutenfreemaven.com
Enter the Great Gelt Giveaway
- Win a tub of dairy free, nutfree chocolate gelt and dreidels
NEED HELP ENTERING?
email:
kosherfoodallergies@gmail.com
1.Click USE YOUR EMAIL on the Rafflecopter giveaway link below:
2. Enter your first name and email address
3.
Click on the green +1 do it button, now you're in!
a Rafflecopter giveaway