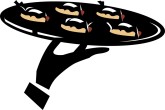 Does a nice bowl of hot soup sound appealing or would you prefer a cool fruit cup to start your Puim feast?
Depending on where you live Purim might be chilly or balmy. Whatever your mood, you'll find an appetizer that's sure to please on the list below. All of them are nutfree, eggfree, dairy free and most are gluten free as well. Don't forget some nice hot
onion challah rolls
made with kosherfoodallergies eggless challah dough recipe.
Hot appetizers
soup
meatballs and rice
stuffed cabbage
puff pastry with mushrooms
puff pastry with chicken
chicken fingers with dipping sauce (honey mustard, apricot/balsamic)
Cold appetizers
salads
cantaloupe with blueberries
fresh fruit cup
strawberry soup
pina colada sorbet
tortilla chips and dips (salsa, avocado, chumus)
Purim is February 24 - February 25, 2013.
A joyous holiday celebrating the salvation of the Jews from the wicked Haman.
Purim Crash Course
ABC's of Purim
Purim Songs